Ms Dora Hoan

was raised in a traditional Chinese family. Since childhood, she had been exposed to the spirit of entrepreneurship and eventually followed in the footsteps of her hardworking, business-minded parents. Despite her innate entrepreneurial skills and quite unlike many people of her days, Dora went to school focusing not on a well paying profession, but a meaningful vocation as a history teacher. Little did she know her life would take a fateful twist, allowing her to realize her dreams for both a meaningful career and financial independence.

Today, Dora continues to work with the same passion and drive that paved her way to success many years ago. Under her leadership, the company is running like clockwork even as it is continually expanding. She never seems to run out of energy, never complains and always marches forward. Perhaps, to understand the driving factors of her success, we should take a closer look at this extraordinary woman.


Dora is many things to many people. In the corporate world, she is acknowledged as one of Singapore's most recognized women business leaders. At the helm of Best World International, people respect her as a motivated and diligent CEO. She founded Best World in 1990, evolving it from a humble local enterprise into the first and only public listed direct selling company in Singapore. Under her leadership, Best World has become a recognized Asian company with a presence in 20 countries and stands as an emerging global player in the direct selling industry.
To individuals in the direct selling industry, she is a motivational leader with a distinguished career spanning over 30 years. Her visionary leadership and passion for direct selling became the driving force that transformed the lives of thousands of distributor-entrepreneurs across the region.
Dora is an affectionate mother to her daughter who wishes to carve it out on her own as an aspiring lawyer despite her mother's success. She is now treading the same path as her mother by setting up her own business. Despite the many demands on her career, Dora has managed to successfully juggle work and raising her daughter. When her daughter was still of a tender age, Dora decided to quit her nine-to-five job for three years to devote time to provide the best care for her daughter.
Ms Hoan shares her leadership skills by advocating change and participating actively in the community as she envisions the way it can be impacted by entrepreneurial drive and spirit. She gives back through a number of charitable institutions and civic work.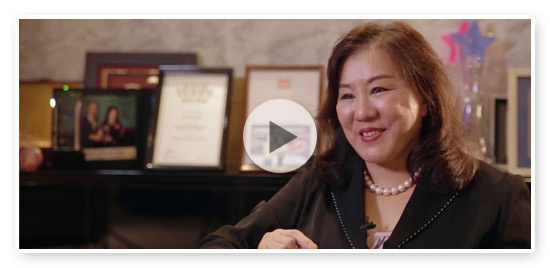 Ms Dora has received numerous awards and recognition for her leadership and entrepreneurial abilities. She was conferred the ASEAN Most Outstanding Woman Entrepreneur Award in 2008. Prior to that, Ms Dora was also named one of the outstanding women entrepreneurs in Singapore and won the Ernst and Young Entrepreneur of the Year Award in 2006.
In October 2011, Ms Dora was appointed the Chairperson of Association Services Committee for the World Federation of Direct Selling Association (WFDSA), and will be in charge of raising standards of 60 DSAs over the world. In 2001, together with major Singapore newspaper Lianhe Zaobao, she initiated the Singapore Promising Brand Award (SPBA), an annual recognition that emphasizes the value of corporate branding as a key strategic tool for global business integration. During that period, she also served as president of the Association of Small and Medium Enterprises (ASME) in Singapore.
In May 2014, Ms Dora was elected as the Chairman for Direct Selling Association of Singapore (DSAS) for Term 2014/2016.
In August 2014, Ms Hoan was conferred the Public Service Medal (PBM) at the 2014 National Day Awards.
At the Great Women of Our Time Award 2014 Gala Dinner held on 25 September 2014, Ms Dora Hoan won two awards: The Overall Winner in Finance and Commerce, and The Most Inspiring Woman Award.
In 2017, Ms Dora Hoan was awarded the Nanyang Alumni Achievement Award by the Nanyang Technological University, and the Distinguished Service Award at the World Federation of Direct Selling Associations. Ms Hoan was also formally appointed as the Secretary of the World Federation of Direct Selling Association (WFDSA) at the Board of Directors meeting and CEO Council Meeting of WFDSA in Paris. Ms Hoan is the first Asia CEO to hold this position.